Thank you to Hamlette @ Hamlette's Soliloquy for making this fun tag!
1.  Which did you experience first, a Jane Austen book or a movie based on one?
It was a movie. I just don't know if it was Pride and Prejudice (2005) or Sense and Sensibility (1995). My sister is sure it was the former, but I think it was the latter.
2.  What is your favorite Austen book?
I like Sense and Sensibility a whole lot, and also Northanger Abbey, but Pride and Prejudice is my favorite, and I do not wonder why it is her best known/loved work.
3.  Favorite heroine?  Why do you like her best?
This is a great question. One that I don't really have an answer to. I mean, movie wise, probably Emma Woodhouse from Emma (2009) and Jane Bennett from Pride and Prejudice (2005), but book wise probably  the Dashwood sisters. I love both Marianne and Elinor are both pretty great, with their virtues and faults, their 'sisterliness' and their sense and sensibility at times.
4.  Favorite hero?  Why do you like him best?            
Okay. All of them? Perhaps Henry Tilney and Captain Wentworth if we are talking from the books. They are pretty terrific. From the movies, I love George Knightley from Emma (2009) and Charles Bingly from Pride and Prejudice (2005). I love Mr. Knightley because he's amazing, and Bingly because of how quirky and amusing and adorably akward he is. Plus, his hair.
5.  Do you have a favorite film adaptation of Austen's work?
Yes! I love Pride and Prejudice (2005) and Emma (2009). Pride and Prejudice is so visually pleasing, and the soundtrack is so amazing, and Rosamund Pike as Jane, and all that, and is a therefore very lovely movie. Emma is just wonderful. I'm not sure why I like it so much, but I do.  I binge-watched it when I was sick last year, and I loved almost every minute of it.
6.  Have your Austen tastes changed over the years?  (Did you start out liking one story best, but now like another better?  Did you think she was boring at first, then changed your mind?  Etc.)
In a way, yes. I thought I was going to hate her works, because my sister scared me into thinking ahead of time that she was boring. But I read eight of her novels in a row, and loved most of them. I still think they can be a bit redundant, and that sometimes it seems a bit formulaic.
7.  Do you have any cool Austen-themed things (mugs, t-shirts, etc)?
No, but I would love to have some! I would especially like: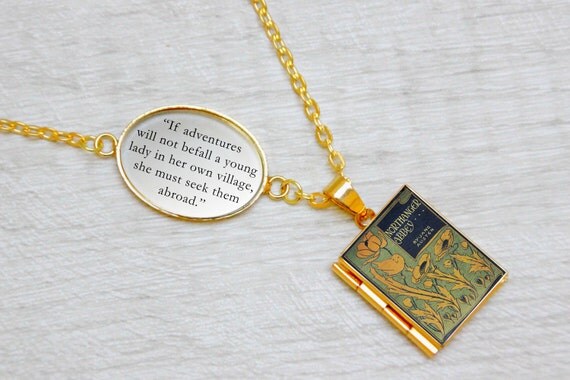 8.  If you could ask Jane Austen one question, what would you ask her?
"Teach me your ways!" Or "how did you chose your character's names?"
9.  Imagine someone is making a new film of any Jane Austen story you choose, and you get to cast the leads.  What story do you want filmed, and who would you choose to act in it?
Woah! Sounds awesome to do. Perhaps… Richard Madden as Edward Ferrars and… Anna Popplewell as Elinor Dashwood and Colin Ferrel as Colonel Brandon and Eliza Bennet as Marianne and Ioan Gruffudd as Willoughby to star in a new Sense and Sensibility? That's either perfect or horrible and I don't think it goes in between wonderful and disastrous. It's one or the other.
10.  Share up to five favorite Jane Austen quotations!
Well this was certainly a fun tag! I enjoyed doing it, especially since I've been out of ideas for any posts. Jane Austen, thank you for giving us these terrific books.